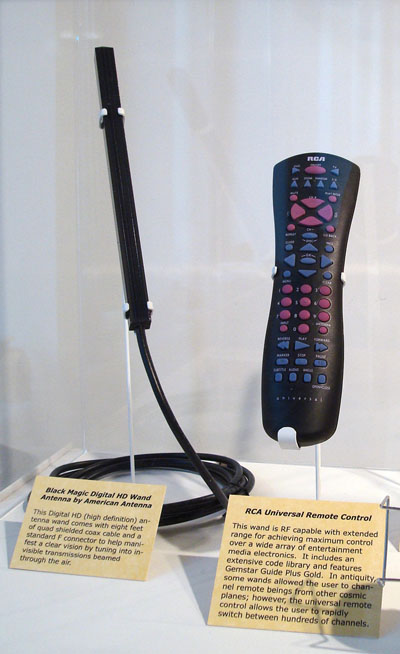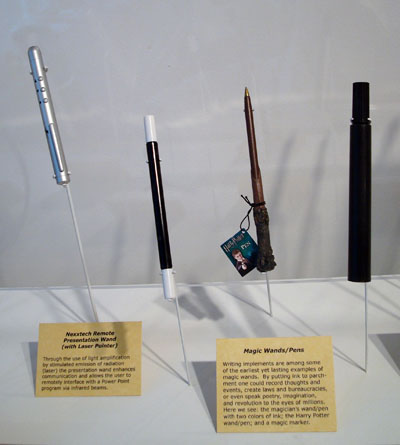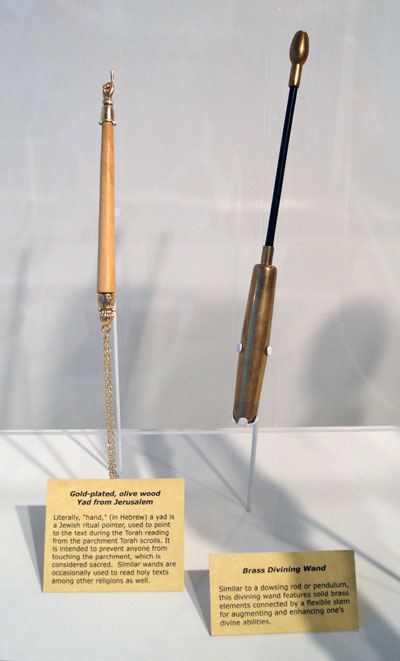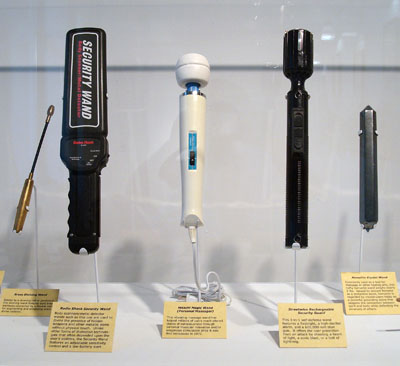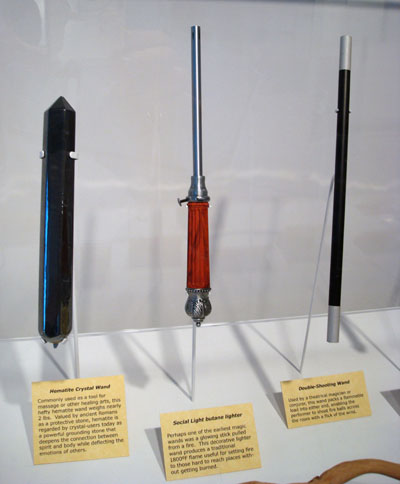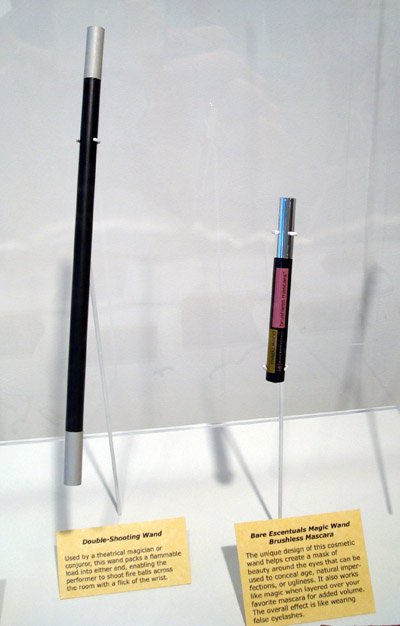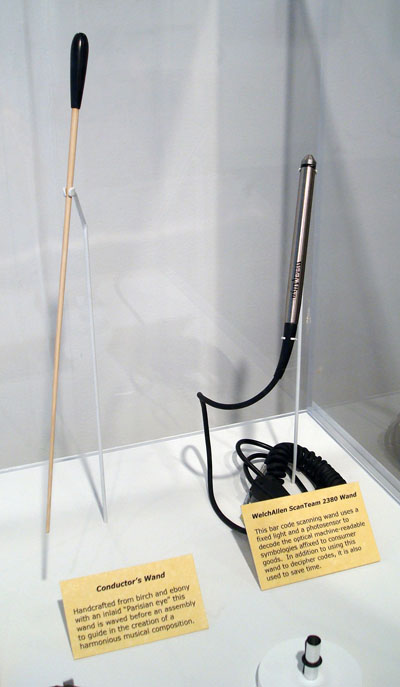 Magic(k) Wands
From Spiral Sticks to Remote Controls
Black Magic Digital HD Wand Antenna by American Antenna – This Digital HD (high definition) antenna wand comes with eight feet of quad shielded coax cable and a standard F connector to help manifest a clear vision by tuning into invisible transmissions beamed through the air.
RCA Universal Remote Control – This wand is RF capable with extended range for achieving maximum control over a wide array of entertainment media electronics. It includes an extensive code library and features Gemstar Guide Plus Gold. In antiquity, some wands allowed the user to channel remote beings from other cosmic planes; however, the universal remote control allows the user to rapidly switch between hundreds of channels.
Nexxtech Remote Presentation Wand with Laser Pointer - Through the use of light amplification by stimulated emission of radiation (laser) the presentation wand enhances communication and allows the user to remotely interface with a Power Point program via infrared beams.
Magic Wands/Pens – Writing implements are among some of the earliest yet lasting examples of magic wands. By putting ink to parchment one could record thoughts and events, create laws and bureaucracies, or even speak poetry, imagination, and revolution to the eyes of millions. Here we see: the magician's wand/pen with two colors of ink; the Harry Potter wand/pen; and a Magic Marker.
UltraPure UV Sanitizing Wand - This germ-killing wand is wielded to create a sanitized indoor living environment. Designed to reduce and control disease-causing bacteria, viruses, and fungi, it emits a pure ultraviolet glow that produces a 99.9 percent kill rate of microscopic bacteria, viruses, dust mites and bed bugs.
Gold-plated olive wood Yad from Jerusalem - Literally, "hand," (in Hebrew) a yad is a Jewish ritual pointer, used to point to the text during the Torah reading from the parchment Torah scrolls. It is intended to prevent anyone from touching the parchment, which is considered sacred. Similar wands are occasionally used to read holy texts among other religions as well.
Brass Divining Wand – Similar to a dowsing rod or pendulum, this divining wand features solid brass elements connected by a flexible stem for augmenting and enhancing one's divine abilities.
Radio Shack Security Wand – Body scanners/metal detector wands such as this one are used to divine the presence of hidden weapons and other metallic items without physical touch. Unlike older forms of divination technologies that often depended upon the user's abilities, the Security Wand features an adjustable sensitivity control and a low-battery alert.
Hitachi Magic Wand Personal Massager – This vibrating massage wand has helped millions of users reach altered states of consciousness through personal muscular relaxation and/or erogenous stimulation since it was first introduced in 1970.
Streetwise SW3N1 Rechargeable Security Guard – This 3-in-1 self-defense wand features a flashlight, a high-decibel alarm, and a 600,000-volt stun gun. It offers the user protection from an attack by shooting a beam of light, a sonic blast, or a bolt of lightning.
Hematite wand – Commonly used as a tool for massage or other healing arts, this hefty hematite wand weighs nearly 2 lbs. Valued by ancient Romans as a protective stone, hematite is regarded by crystal-users today as a powerful grounding stone that deepens the connection between spirit and body while deflecting the emotions of others.
Social Light butane lighter wand – Perhaps one of the earliest magic wands was a glowing stick pulled from a fire. This decorative lighter wand produces a traditional 1800ºF flame useful for setting fire to those hard to reach places without getting burned.
Double-shooting wand – Used by a theatrical magician or conjuror, this wand packs a flammable load into either end, enabling the performer to shoot fire balls across the room with a flick of the wrist.
Bare Escentuals Magic Wand Brushless Mascara - The unique design of this cosmetic wand helps create a mask of beauty around the eyes that can be used to conceal age, natural imperfections, or ugliness. It also works like magic when layered over your favorite mascara for added volume. The overall effect is like wearing false eyelashes.
Pagan wand – Wands used by contemporary witches and occultists vary greatly in design, material, and designated purpose. This spiral wooden wand was handcrafted from a fallen vine branch after being ceremoniously charged during an electrical storm. Vine is symbolic of tenacity and flexibility, thereby offering the user the potential to channel a wide range of energies for use in ritual magick, witchcraft, and modern occult practices.
Conductor's wand – Handcrafted from birch and ebony with an inlaid "Parisian eye" this wand is waved before an assembly to guide in the creation of a harmonious musical composition.
WelchAllen ScanTeam 2380 Wand – This bar code scanning wand uses a fixed light and a photosensor to decode the optical machine-readable symbologies affixed to consumer goods. In addition to using this wand to decipher codes, it is also used to save time.
Self-appearing wand – This unassuming cylinder expands rapidly to form an 18-inch black wand with silver tips for use by stage magicians.