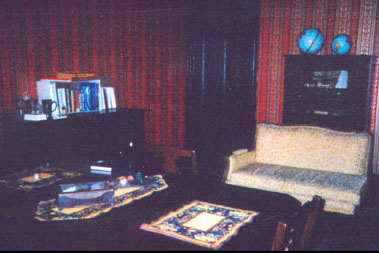 Free Occult Services Clinic
Communal Empowerment Through Suggestive States.
The Center for Tactical Magic established a ten-day, Free Occult Services Clinic at the culmination of The Experimental Thinking Lab Residency in North Adams, Massachusetts. The clinic met with individuals by appointment and offered one of two possible services: Astral Projection or Past-Life Regression. The former guided the participants' outward exploration of one of the last unregulated public spaces (the astral plane) as they used their astral bodies to infiltrate areas where one's physical presence constitutes an illegal act (the Pentagon, the White House, Leavenworth Federal Prison, NSA Headquarters, Fort Knox, Masonic Lodges, etc.). The latter facilitated an inward journey that allowed participants to transcend the subjectivities of time in order to uncover the unrealized socio-political agendas of one's former self. The sessions, which took place in a red and gold Victorian parlor accented by candles, incense, potions, and bio-psi paraphernalia produced results that consistently exceeded expectations.
The Center for Tactical Magic welcomes invitations to establish a Free Occult Services Clinic in your area.